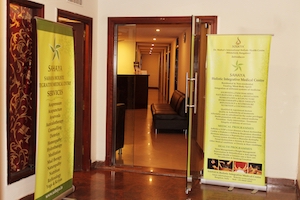 SAHAYA HOLISTIC INTEGRATIVE HOSPITAL PVT.LTD., has been started to extend Integrative Medicine with a Holistic Approach to all sectors of society, both for medical treatment and health improvement.
This is situated in the heart of the Bangalore city. Sahaya is an integrative hospital with a focus on holistic healing through Ayurveda. It is perhaps one of the best known Ayurveda clinics in Bangalore.
We offer the best holistic treatment in Bangalore by integrating various systems of medicines namely Homeopathy, Ayurveda, Naturopathy and Yoga. All this is available under one roof in the heart of Bangalore.
Ayurveda is the traditional medicine of India, which originated there over 5000 years ago. Ayurveda emphasizes on re-establishing balance in the body through diet, lifestyle, exercise and body cleansing of the complete person. At SAHAYA in Bangalore, Ayurveda is practiced with the best of Ayurvedic Physicians in the most authenticated manner.
Holistic Health
is a philosophy of treating the person as a whole, mind-body-spirit in the context of one's physiological, psychological, emotional, nutritional, lifestyle, sociological, environmental and spiritual aspects, both in sickness and in health. The holistic assumption is that the body has a remarkable innate capacity to heal itself.
Integrative Medicine
is the method of integrating different systems of Medicine, Ayurveda, Naturopathy, Homeopathy, and Complementary Therapies, Yoga, Acupuncture, Reflexology from around the world for the treatment of the patient. Healing by incorporating appropriate modern medical techniques with traditional medical systems based on individual needs.
Our Strength:
Qualified and experienced doctors from different systems of medicine.
Quality and authenticity of treatment.
Integrity of delivery of services.
Residential and non-residential medical and health programs.
Affordable cost of treatment.
Subsidized treatment for the under privileged.
Prevention, early intervention and treatment of illnesses.
Health promotion with safe, natural medicine that has no side effects.
Chronic, rare and incurable conditions treated successfully.
Increased health consciousness at a multi-dimensional level, to enable one to adopt a healthy lifestyle.
Started by the Founders of SOUKYA International Holistic Health Centre, one of the world's best holistic health retreat in a 30-acre organic farm in Whitefield, that has treated guests and patients from over 60 countries.